Journal Entry:
Sun May 11, 2008, 2:45 PM
Mood: Love Dazed
Reading: Clearing the emotional muck Maiko left behind
Watching: The Boiling Rock
Eating: Fire flakes
Drinking: water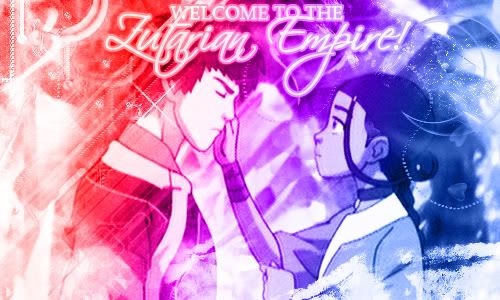 Okay, people.
Let's all just take a nice, big, deep breath and CALM DOWN.
I'm going to say this VERY CLEARLY:
The Sozin's Comet book DOES NOT REVEAL what is actually going to happen in the finale.
It does NOT.
It is NOTHING more than a fanfic.
In case you didn't know (and have been living under a rock), this Sozin's Comet book is full of comics that are apparently about the finale of Avatar the Last Airbender.
They are NOT. I have NO CLUE who started that rumor.
I have the Avatar comic books that were released a while ago, covering the first couple of episodes, and they are a TRUE version of what happened at the beginning of the series.
And GUESS who they are written by?
I quote:
"Written by Michael Dante DiMartino & Bryan Konietzko. Additional writing by Aaron Ehaz, Peter Goldfinger, and Josh Stolberg."
In other words, ACTUAL PEOPLE WHO GET PAID BY NICK TO PUT THE STORY LINE OF AVATAR: THE LAST AIRBENDER TOGETHER.
And who, may I ask, is this Sozin's Comet book written by?
David Bergantino and Patrick Spaziante, whoever the heck they are.
Actually, I know exactly who they are.
They are a fanfic writer and an illustrator who have an idea about what might happen in the much-anticipated finale of Avatar, who wanted to fill up their piggy banks by leading Avatards everywhere to believe that this is what actually will happen in the finale.
IT'S NOT. DON'T WASTE YOUR MONEY BUYING A STUPID FANFIC.
Everyone who has read it is disapointed and says that the storyline is pathetic and not very logical.
We all know very well that Bryke is VERY weary of letting out spoilers. For goodness sakes, at the NYCC, when the simple question "Will Ursa turn up again?" was asked, they blushed and mumbled, "You will have to wait and see."
And you REALLY BELIEVE that these guys, who were so hesitant to tell us whether one little character would make another appearance, would just BLOW THE WHOLE FRIGGIN FINALE by publishing it in some COMIC BOOK??!
There is absolutely NO WAY.
And if these David Bergantino and Patrick Spaziante people ACTUALLY found out what happened in the finale (which is basically impossible), and published it into a book, they would be sued SO FAST they would hardly have time to breathe.
IF indeed Nick wanted to release a comic book concerning the finale of Avatar, than THIS is exactly what would have been written on the cover:
"Written by Michael Dante DiMartino & Bryan Konietzko. Additional writing by Aaron Ehaz"
Why? Because THEY ARE THE OFFICIAL WRITERS of Avatar the Last Airbender, not some random men whom we've never even heard of before.
Yes, yes, Nick has done some pretty stupid things in the past.
But there is just no way they would spoil the most anticipated four episodes of the whole series WITH A COMIC BOOK.
NO ONE is that dumb.
So if you read that book and you don't see your ship in it....
Big deal. I guess David Bergantino and Patrick Spaziante don't support that ship.
ANYONE could do what they've done. ANYONE could send their fanfic and pretty pictures off to a publisher.
This stupid Sozin's Comet book is NOT ANYTHING like what will happen in the final four episodes of Avatar.
It's merely what David Bergantino and Patrick Spaziante THINK will happen or WANT to see happen.
And if you still aren't convinced, it says in the book description:
"In this adaptation of the four-part Season Three finale..."
ADAPTATION. Do you KNOW what this word means?
According to dictionary.com:
"a form or structure modified to fit a changed environment
A MODIFYED FORM.
David Bergantino is considered to be "THE ADAPTER" of the Sozin's Comet book.
Bryke and Aaron Ehasz are considered to be the WRITERS of the OFFICIAL comic books covering the first couple episodes of Avatar.
David Bergantino is NOT an official writer, NOT an official author, NO, he is AN ADAPTER--the one who came up with the storyline of this MODIFYED VERSION of the Avatar: The Last Airbender finale.
Seriously. I think we are all going a wee bit paranoid.
If ANYONE you know is depressed or upset about this issue (as so many people are), give them a link to this journal.
We need to stop grieving and OPEN OUR EYES TO THE LOGICAL TRUTH.
With much

,
Amy-Anne